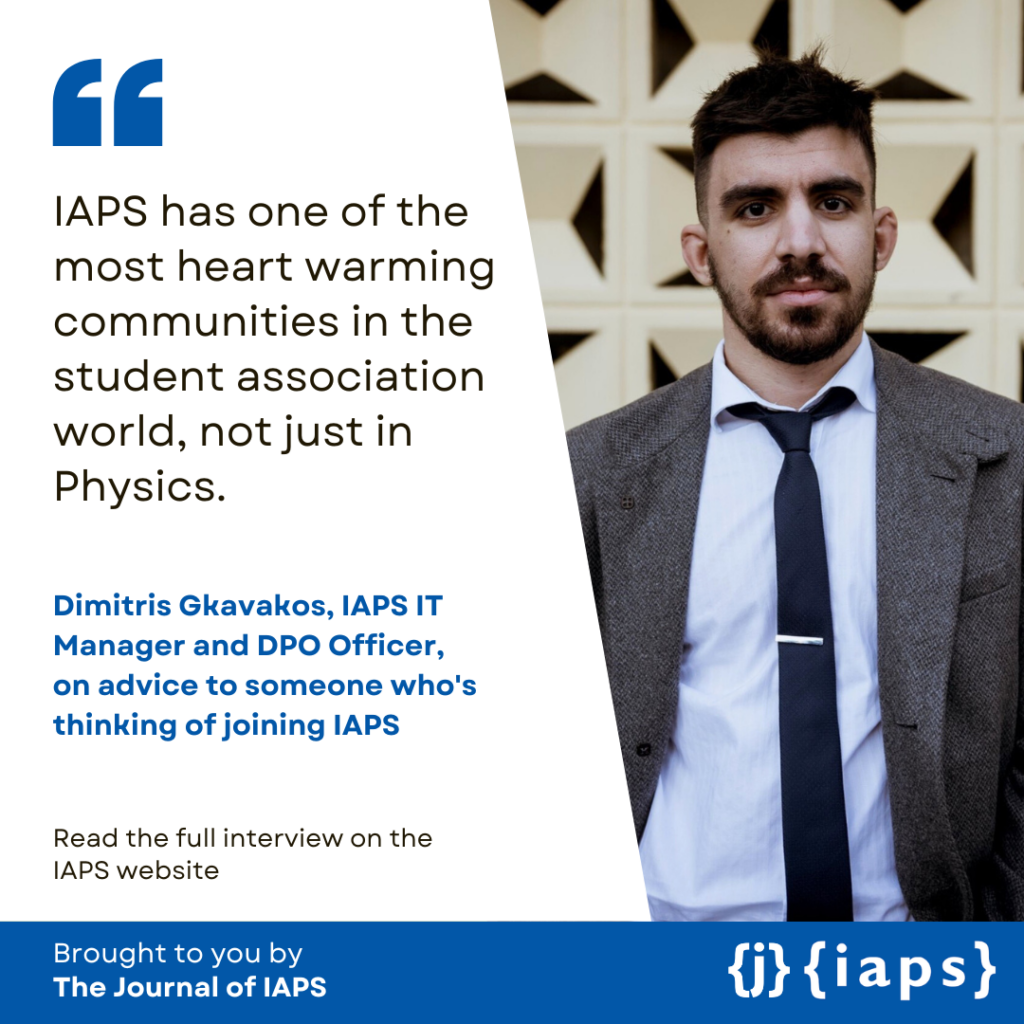 The jIAPS Editor-in-Chief is enjoying interviewing the EC members so much that we already have another interview for you. This time, the jIAPS Editor-in-Chief interviewed Dimitris, IAPS IT manager, who is currently studying at the National Kapodistrian University of Athens, Greece.
The interview opened with a sneak preview of the most recent developments in the world of IAPS IT and a discussion of possible future plans for jIAPS.
Then, the actual interview started. The jIAPS Editor-in-Chief began with the usual opening question…
What are you currently studying?
I'm studying Medical Physics. To be more exact, I'm doing a small piece of research on a Gamma Camera, but thinking of shifting my focus towards neural networks and image reconstruction techniques, especially with all the fuzz on AI.
What is your favorite part of your role as IAPS IT Manager?
When I first took over as IT Manager, I had a completely blank canvas. There was room to create stuff and provide space to build things. It was the most amazing experience!
What does your role involve?
I can divide the tasks into two categories: first, developing new resources; making them from scratch; the creative tasks; like designing elements of the website and creating new resources. Then there's the 'boring' stuff, like maintenance and debugging, and doing the sysadmin stuff.
What are your tips for overcoming challenges as IT Manager of IAPS?
You need to think outside the box and always assess possible risks. So, focus on maintaining things and keeping them running, rather than fixing them when they break down. Work smart, not hard.
What have you enjoyed the most about being part of the EC?
Being a part of the EC was more of a self-actualization thing for me; I really love to provide and care for people. Especially now that we provide for physics students across the world, you might think that we differ a lot, but in reality the phrase is "Different continents…same problems".
Also by joining the EC you get the chance to meet some truly amazing people and some very interesting characters – the knowledge and cultural exchange is on another level.
What skills is it important to have to be part of the EC?
Time management is really important. You have to be able to keep to a strict schedule or you'll be a goner. Being a team player and balancing tasks and supporting each other is necessary… it can be stressful at times; keeping that family vibe is very important. IAPS is just like a big family. What else? Do I need to think of another one? Communicating and being able to express yourself – that's a big one. If you lose communication, it causes a lot of problems; a lot of problems. Communication is critical.
What is it like being part of the EC?
…what's it really like? 50% of the time is spent dealing with bureaucracy and the other 50% is spent listening to the Treasurer's obsession with fund-raising.
What has been your biggest success this year?
Being elected as IAPS Data Protection Officer (DPO); nah I'm messing with you. For me, overcoming the biggest challenge of IAPS IT infrastructure. Basically we managed to migrate to a different hosting provider, containerized everything and we have backups on top of backups. Before that, if something crashed, you had to pray that it would start again.
What is the role of the DPO?
Basically, it involves looking through the GDPR legislation. Every organization has one to ensure that the organization follows the legislation. In addition to that, the DPO acts as a legal in house advisor, assisting in creating Data Processing Agreements.
What advice would you give to someone who was considering the role of IT Manager?
Go for it! Just be sure to know the basics of sysadmin, PHP and network security. Without those you are a goner.
How can people get involved with the IT Working Group?
It is very simple: hit me up on Discord or throw me an email at dimitris.gkavakos@iaps.info
What advice would you give to someone who was considering joining IAPS?
When I first joined IAPS, I joined as the President of an already made NC (Greece). I started my journey through physics associations from EPS Young Minds and the American Physical Society, then I landed on IAPS.
If you ask me, why should you join IAPS…
IAPS has one of the most heart warming communities in the student association world, not just in Physics. You have the opportunity to meet new people, learn new skills and support your activities on a local level.
Aside from the aforementioned, IAPS is also a great opportunity to learn how to run an NC or an LC, join a Working Group and transfer the knowledge back to your country. The knowledge that we have has been battle tested from the late 1990s.