For the next in the series of jIAPS interviews. The Editor-in-Chief spoke to Thara Caba, IAPS Secretary: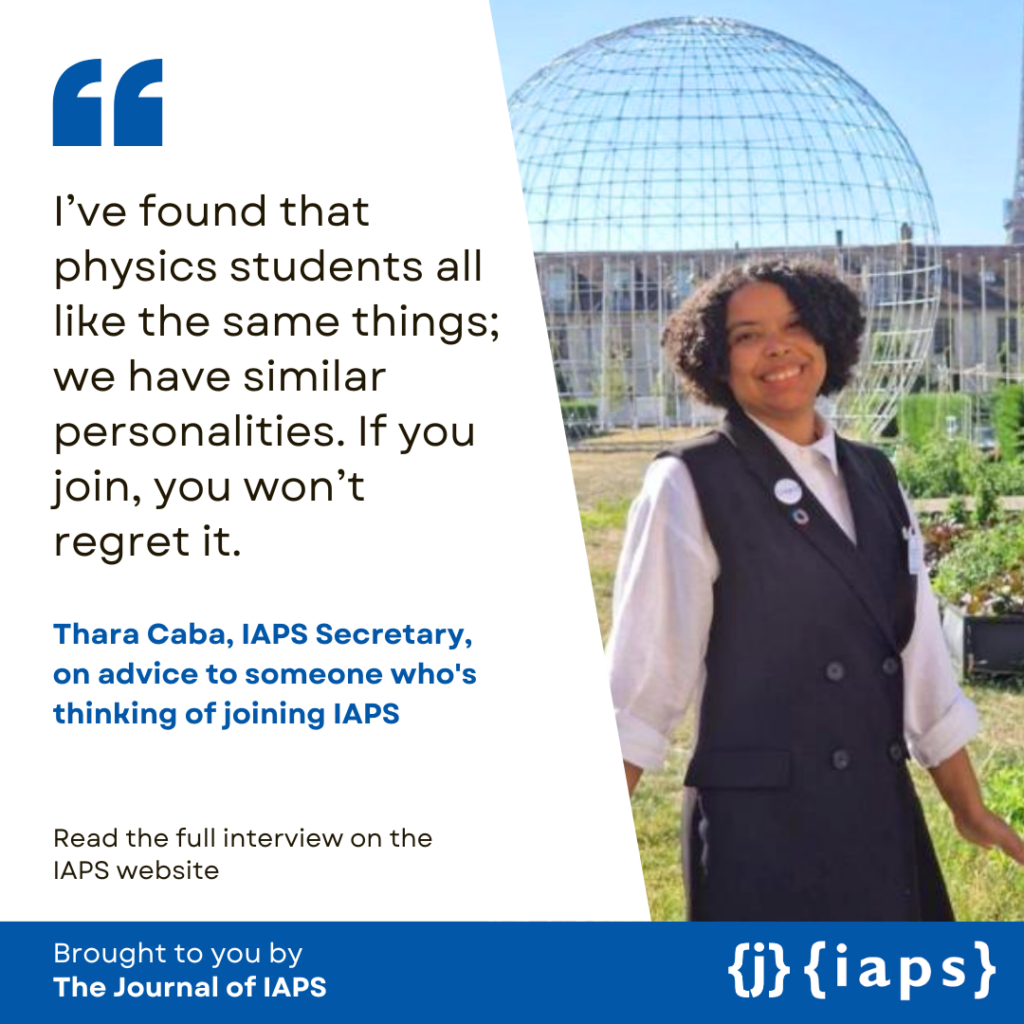 What are you currently studying?
I graduated from my Bachelor's course in April. I was studying General Physics for my undergrad in Dominican Republic. I'll start my Master's in September, where I'll be studying Astrophysics and Space Science; so I'm actually in between degree programmes at the moment. I'm doing some extracurricular courses in General Relativity and Cosmology, and some programming courses.
What have you enjoyed most in IAPS?
I really enjoy the community in IAPS. Here [in the Dominican Republic], we only have a small community of physics students. In IAPS, you get to meet people from all over the world. I enjoy attending events and getting to meet so many physics students. It's not ordinary for me; so I like the events and the community.
What's your IAPS journey been like – what previous roles have you had?
A few years ago, I was the President of my student association and I was contacted by Gabriel [now Vice-President of IAPS], who was part of the recruitment working group of IAPS. Gabriel found the email addresses of all the student physics societies in Latin America and contacted them to tell them about IAPS. I got a message from him and that's how we started the process to become a LC [Local Committee of IAPS]. That was in 2021 I think. After that, I was a volunteer at the online edition of PLANCKS in 2021. I became more involved with IAPS. I was a staff member of jIAPS 2021 [and Thara is still helping with jIAPS now – Editor]. Then I ran for PR Manager in 2021 and became part of the EC. 
And so, why did you decide to apply to become IAPS Secretary?
As part of the EC [Executive Committee], I saw the importance of having a good secretary. Then I was like, hey, I'm good with time management and organising stuff, why shouldn't I apply for Secretary of IAPS? I was also finishing my studies, so I knew I'd have more time for IAPS. So that's what I did in 2022, and here I am now.
What does your role involve, other than minute taking at meetings?
Taking minutes every two weeks for the EC meeting is the most consistent thing I have to do, but it actually isn't the biggest thing. I also make sure that everyone's doing their tasks that they were allocated in the meetings and remind them to do their tasks.
Organising the EGM (Extraordinary General Meeting) and now the AGM (Annual General Meeting) is a lot of work. There are a lot of moving parts and this is the biggest thing I have to do. Whenever there's a letter of recommendation or a letter for an event to be written, that's my job. Those are the biggest things I have to do in my role. There are also unallocated jobs in the EC that anyone can do too.
What's your most memorable moment from IAPS?
My most memorable moments are from PLANCKS Milan 2023. I really liked meeting and talking with the Nobel Prize Winner, Didier Queloz, who discovered the first giant planet outside the solar system. [You can ask Thara for her other memorable moments – Editor]
What are IAPS meetings really like?
They are usually very long and very heavy – there is a lot to discuss. Before doing it, no one is aware how much work being on the EC really is. There are lots of things to do, but it's really rewarding.
What's your top tip for taking minutes?
Don't write everything anyone says, or you'll fall behind and start to miss stuff. Just write the general idea and that's okay. People don't want to have to read a ten page long document for every meeting.
Can you think of anything unusual or particularly interesting that you've had to include in the minutes of a meeting?
I've included lots of unusual things in the minutes! I want people to read them. I don't want them just to approve the minutes without reading them. Once, I wrote that one of the EC members was in the bathroom in the minutes to see if people were paying attention to what I wrote.
Have you had to do a lot of travelling in IAPS?
Yes! It is one of the most rewarding things about being on the EC, or just being in IAPS in general. I have two favourite events that I travelled to with IAPS. The first is the Opening Ceremony of the IYBSSD (the International Year of Basic Sciences for Sustainable Development), which was really fancy and held in Paris. I got to meet ministers and Nobel Prize winners… and afterwards, we went to the Eiffel Tower. It was an amazing day.
The second event is the IUPAP (International Union of Pure and Applied Physics) Centenary Symposium in Trieste, which was near the beach. We got to go to the beach almost every day. It was an event with physicists from all around the world. I got to learn about the diverse jobs a physicist can do – not just becoming a researcher, but there were also journalists, business managers and policy makers. [You can read more about both of these events in jIAPS 2022 – Editor]
What advice would you give to someone who was thinking of joining IAPS?
Just do it! It is really fun! You get to meet lots of people, make lots of friends!
I've found that physics students all like the same things; we have similar personalities. If you join, you won't regret it.
Thank you Thara; is there anything you'd like to add?
Hmm… just 'thank you for interviewing me!'